Amanda Thompson Petumenos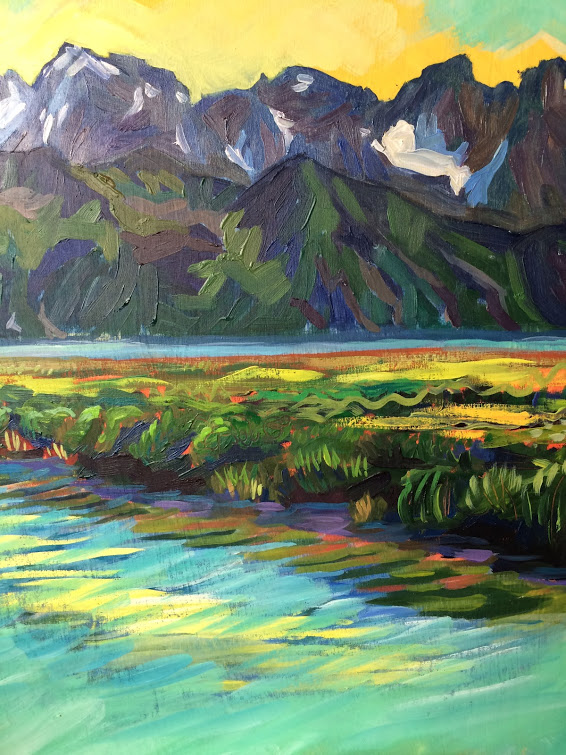 Artist Bio
Artist Statement
Harmony, whimsicalness and playfulness describe the larger part of my artwork. I have experienced picture making as a way of seeing deeper into the gift of life as I observe the living creatures and environments around me.
I untwist the prisma-bundle of light to separate out what colors I can from nature's beautiful skein. The line my pen or brush makes trails my thoughts as I contemplate what it means to be a human between heaven and earth. The circles are places for emotional colors and forms to condense and make poetry out of what otherwise can be too overwhelming to take in compassionately.
My mediums are oil, watercolor, computer design and silk painting. The first three I set sail on during a fine arts camp at the University of Alaska Fairbanks as a teenager, then later at Hillsdale College in Michigan. Each of the mediums gives me a different way of delineating areas of color. I choose oils when I need a rich, textural palette. The pigments in watercolor seem to have a mind of their own, and give results true to nature if I can just see clear enough. The translucency of silk backlights the swirls of color that I can untangle with the dyes on the fabric. With Photoshop and Illustrator I can layer several images in complex ways, letting colors and patterns push and pull a story out from under it all.
I hope that my pictures engages the imagination of the observer, much like how a good book can dance inside the reader's mind. It is a post-postmodern tragedy when people get so overwhelmed with images that they lose the ability to delight in any of them to any real depth. I think it is as important as ever that one's own imagination comes to the rescue. I want my artwork to interact in tandem with the viewer's mind.
I have seen my artistic ability grow the most when I am in another country. I visited Europe after finishing my classical art education. As I studied and traveled through Florence, France, through the Low Countries and England, my drawing and painting stayed the same but my eyes began to be entranced by the harmonious, contemporary designs I saw all around me. I was surrounded by well- designed pictures and parts. It was a direct contrast to the rugged nature and naturalistic wildlife art I was surrounded by in my home city of Anchorage, Alaska. Once I started teaching near Basel, Switzerland, my painting and design work began to open up and expand beyond academicism.
I am hopeful that with more focused study into contemporary problems of design I will be able to grow more and find my own voice. I look forward to teaching art and design at a university one day. Until then I will continue creating and teaching.
Artist Website: behance.net/amandapetu