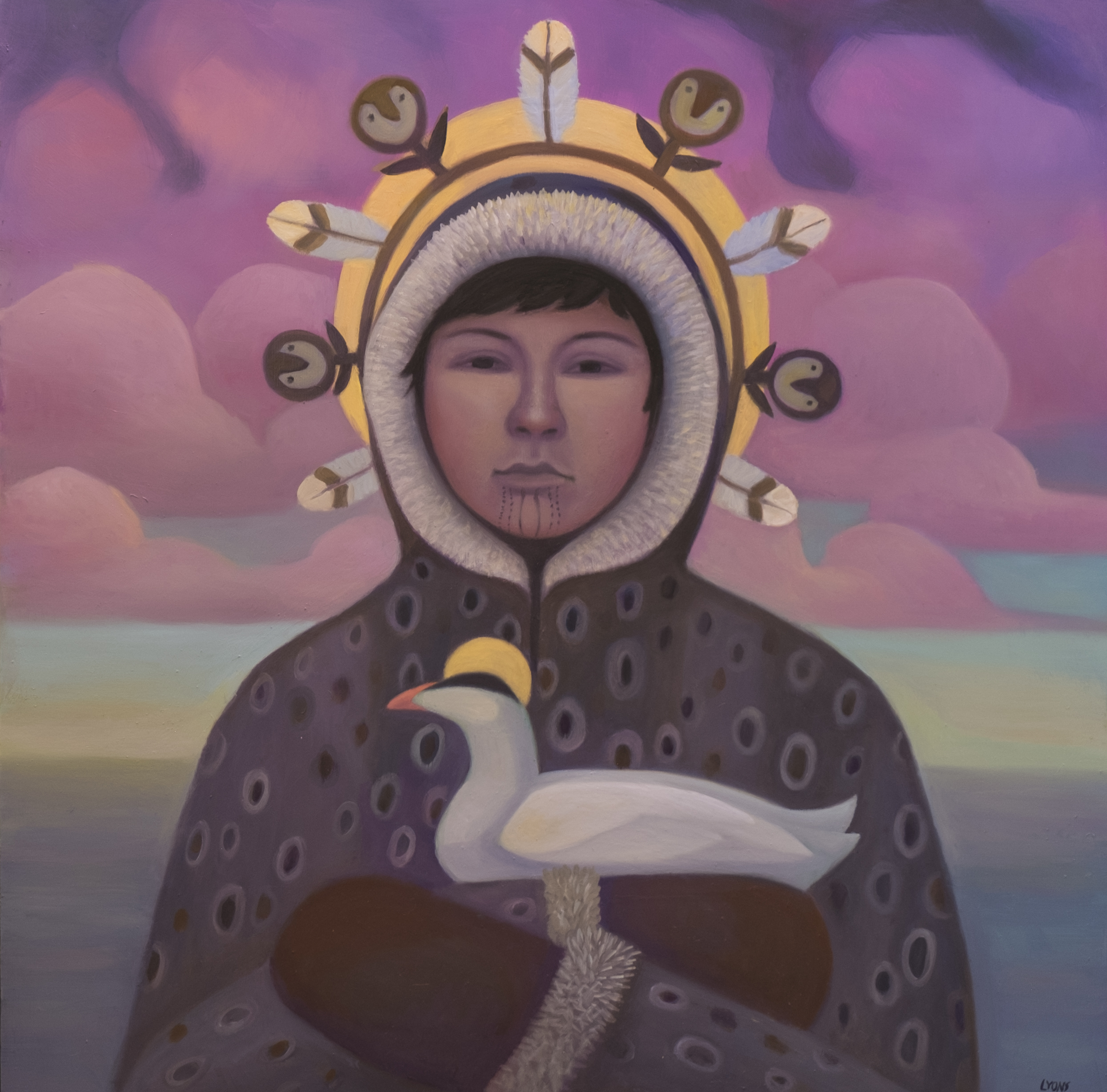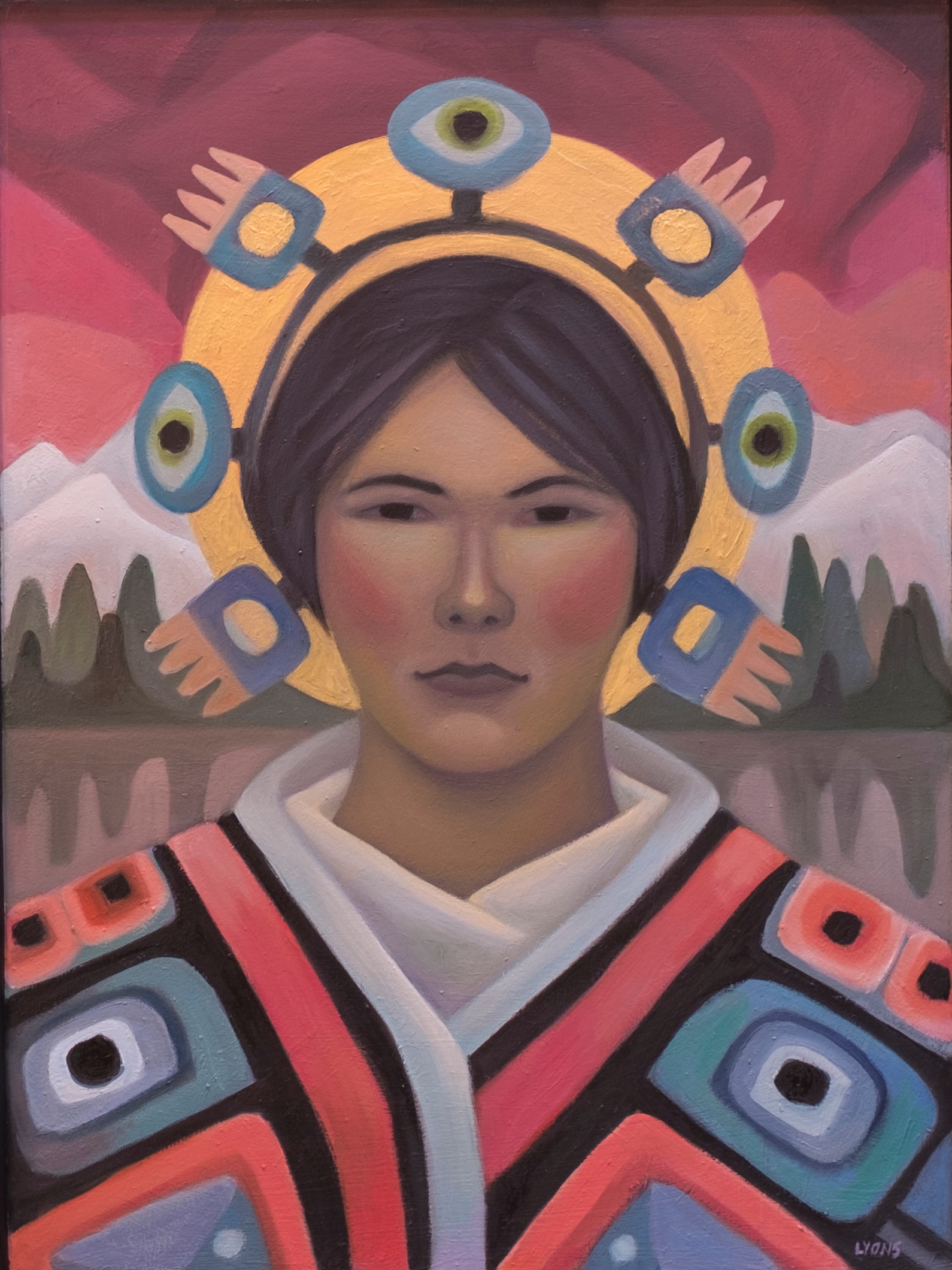 Bio
Linda was raised in Anchorage, Alaska. Her family is from Kodiak and is of Alutiiq Alaska Native heritage. She earned a degree in biology at Whitman College, WA. She lived in Chile for 18 years where she studied art at the Viňa del Mar Fine Arts Institute.
Her paintings and photography can be found in the permanent collections of the Anchorage Museum at Rasmuson Center, the Alaska State Museum in Juneau, the Alaska Contemporary Art Bank, the Alutiiq Museum and Archeological Repository, the UAF Museum of the North, Boney Court House and in galleries and public spaces throughout the state.
She has received various awards including a Rasmuson Fellowship (2016) and a Rasmuson Individual Artist Award (2013). She was selected as artist in residence at the Denali National Park, Meyer of Munich Glass Studios in Germany and a Rasmuson Foundation Fellow at the Santa Fe Art Institute in New Mexico. She has also received grants from the NOAA, The Atwood Foundation, The Alaska Council on the Arts and the Koniag Inc. Native Corporation.
Linda currently resides in Anchorage, Alaska and shares an artist studio in Mt. View with her husband, British artist, Graham Dane. They also have a community workshop studio at the Church of Love in Spenard where they teach art classes for children and adults.
Artist Statement
From a young age, I have been making art, often in trouble for drawing on walls and furniture and ditching school work to sketch or paint. I was equally obsessed with the natural world, filling science class notebooks with copious sketches and eventually earning a degree in biology. Later, I studied art in Chile and have been a self-employed artist for over 17 years.
My icon portraits of Alaska native women were built on the idea that Christian iconography could be eclipsed and absorbed by indigenous cultures much in the way Christianity co-opted pagan myths and symbols as their own. Joining Alaska native symbols of spirituality, tribal landscapes, sacred animal spirits and ceremonial relics with the dominant imagery of this Western religion could be a quietly subversive act of decolonization.
My landscape work is created by direct observation, exploring the vast open spaces of Alaska. Back in the studio, I allow the fluid nature of paint to express emotions and memories of these excursions. I've found kindred spirits in the Canadian Group of Seven, landscape painters who read and discussed writings on theosophy, transcendentalism and Eastern philosophy. Through an intuitive and personal response to their northern environment, a powerful genre of landscape painting was created. I share in this contemplative and exploratory approach to painting. By focusing on light and space and reducing landforms to their most essential, I hope to create work that invites the viewer to consider the possibility of unseen spiritual realities.
Website: www.lindainfantelyons.com